Combo Quilt Sets Save You Money!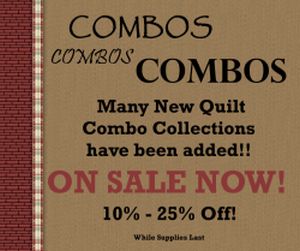 Combo Quilt sets are a great easy way to save you money.  We have gone through multiple collections and created our own combo sets, otherwise know as "Bed in a Bag".
Simply go to the Combo Quilt Sets category on our website and browse through the different quilt collections. 
Click on a collection you like and then the available sizes will appear.  Once you find your bed size, click on it, then it'll show you what extra items are in the collection to go with your beautiful new quilt!
If you find one you like, don't wait!  These combos are in limited availability.
Happy Shopping!
Leave a comment
Comments will be approved before showing up.